Right Wing Extremism
Rachel Maddow's A block last night felt at times like a broadcast from an alternate Earth, but it wasn't a tie-in with The Man in the High Castle, it was straight reporting about an upcoming Nuremberg Rally"ReAwaken America" event to be held at Donald Trump's Doral National hotel in Miami this weekend. Maddow noted that the event will feature an assload of figures from the Trump administration's discard pile, like fired national security adviser Michael Flynn, former (acting) Attorney General Matthew Whitaker (I briefly blanked on his name, because around here he's just "Meatball"), former economic adviser Peter Navarro, that weirdo Kash Patel who somehow had a senior Defense Department appointment, former Congressman Devin Nunes (but not his cow), plus some actual Trumps like Eric and Lara. The Pillow Guy, Mike Pillow, will be there too.
But it won't just be that already awful group of people you'd never want to be trapped in a room with; the event will also feature a couple of full-on antisemitic conspiracy mongers, Scott McKay and Charlie Ward, who openly admire Adolf Hitler and regularly blame Jews for everything they think is wrong with the world. We aren't talking coy references, but straight, undiluted "Hitler was right."
Here's video of the segment.
Drawing on reporting by Media Matters, Maddow noted that McKay, who like every wingnut has his very own internet teevee show, has claimed that an international Jewish conspiracy was responsible for every single presidential assassination, from Lincoln to JFK, because that's just how devious and world-encompassing the conspiracy is. He of course believes that the Jews did 9/11 and the Oklahoma City bombing, and that they practice "satanism, child sacrifice, bleeding them out, torturing them, consuming them, eating their heart." He claims that Jews brought Hitler to power in the first place so they could cause a second World War, but that Hitler was so awesome that he almost managed to free Germany from "the Rothschilds' corrupt money-magic fiat system" and create "a banking system for the people and the free world."
But according to McKay, Hitler was stopped by the Jewish conspiracy — aka the Allies in WWII — and in fact, "Hitler was actually fighting the same people that we're trying to take down today." (So: America.)
In addition to his Hitler hard-on, McKay also rallied the Internet Flying Monkey Brigade to harass and threaten the lives of healthcare workers following the death of a prominent antivaxxer and all around conspiracy loon from what could not possibly have been COVID, because that's harmless.
Charlie Ward somehow manages to be even worse, with more old-timey antisemitic rhetoric like portraying media moguls of the 1930s as a dangerous "cabal" with literal stars of David on their foreheads, explaining that they were the "main sources of information about Hitler and Germany. Do you see the (((problem)))?"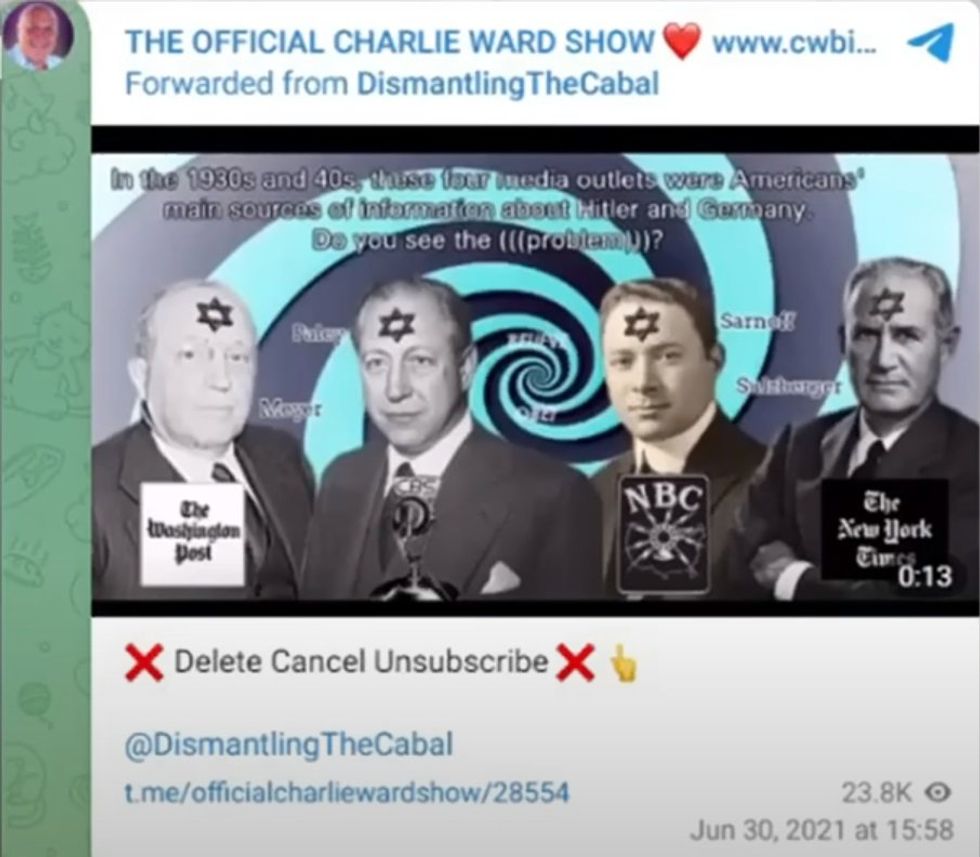 Ward also blames 9/11 on Jews, says the Holocaust was a hoax, insists that all viruses — "including influenza, Polio, Measles, AIDS so was Covid" — were actually created by Jews to kill gentiles with vaccines. While he's at it, he insists that the COVID vaccine has somehow killed more people than the Holocaust, which didn't happen.
Oh, yes, he's also a fervent QAnon adherent, says the Earth is flat, the moon landings were fake, and, in a spirit of whackobird bipartisanship, says that Joe Biden and Amy Coney Barrett, among others, are "reptilian humanoid hybrids." Both sides, people. Both sides.
Michael Flynn has praised Ward as
"a champion" who has been "exposing the deception and raising the truth to the level that it needs to be at."
Eric Trump and Ward are regularly featured on posters for Flynn's "ReAwaken America" roadshow, which has been stumbling from convention center to convention center since at least 2021, when some guy who was in a sketch on SNL joined the rotating cast of cranks and crazies. So yes, the former president's son — "the blond one," as Maddow reminded us — is happy to share a stage with "Hitler was right" guys, and that's not guilt by association, that's guilt by willingly palling around. It's not like Eric Trump and the rest of the crew can pretend to be shocked that they're bringing Nazi apologists onstage either; Media Matters has been reporting on these shitbirds since February at least. Clearly, they don't see any reason to think these guys hurt their brand.
Hell, fascist, racist, antisemitic conspiracy beliefs increasingly ARE the GOP brand, as Maddow also reminded us last night, from the "great replacement theory" embraced both by Fox News and several mass shooters, to the everyday glorification of "rightwing death squads" — oh hey, they're in the news again! — and violent overthrow of the government.
We would say more about the disturbing implications of all of this for American Democracy, but suddenly we were thrown out of a helicopter.
[Media Matters / RawStory / MSNBC on YouTube]
Yr Wonkette is funded entirely by reader donations. If you can, please give $5 or $10 a month so we can keep you informed of all that funky shit going down in the city. Or on Top 40 station, all those funky kicks.
©2018 by Commie Girl Industries, Inc
This Is Not An Ad
Privacy