Nice Time
And they didn't pass a single bill targeting people they don't like.
Minnesota lawmakers, once stymied by gridlock, just ended one of the most consequential legislative sessions in the country since perhaps the New Deal, and this time Black people can participate!
First, the Democratic-Farmer-Labor Party majority sent a $2.6 billion infrastructure package to Democratic Gov. Tim Walz, who'll happily sign it with one of those fancy ceremonial pens.
"The investment that we're making here — whether that's in local communities here in the metro area or in greater Minnesota — we are making a significant impact into everybody's lives," said infrastructure bill sponsor Rep. Fue Lee. "Whether that's the road that we drive on, the drinking water that we have, or the community centers and the cultural centers that we have around the state."
During the final hours of the legislative session, the DFL majority also approved a $6.2 billion two-year health and human services budget. This will increase funding for mental health services; create a new state department for children, youth, and families; and expand the state's publicly subsidized insurance, known as MinnesotaCare, to include the estimated 40,000 undocumented people who live in Minnesota and meet the program's requirements.

The Senate on Monday afternoon passed the bill by a 34-32 vote, and the House passed it 69-64.
Sen. Melissa Wiklund from Bloomington said in statement, "This bill is a game changer for Minnesota families thanks to the investments we are making to improve their daily lives and remove many of the unnecessary bureaucratic hurdles they face. This truly will deliver transformational change for all Minnesotans."
While the infrastructure bills passed the two chambers with bipartisan support, Republicans continued to raise concerns about the scale of spending in Minnesota's next $72 billion two-year budget. A projected $17.5 billion surplus enabled Democrats to expand state programs and aid in many areas, though much of the money is one-time cash.
Of course, Republicans are cranky. Rep. Pat Garofalo from Farmington whined, "As we congratulate and pat each other on the back for what is an unprecedented, explosive amount of government spending in our state, and now record borrowing, what does this mean for the future of Minnesota?"
Why, it means great things for Minnesotans! That was a silly question.
Last week, the Minnesota Senate passed a bill creating a state-run paid family and medical leave program that will offer up to 20 weeks of time off for a serious medical condition or if someone needs to care for a family member, including taking care of a newborn. This bill increases the number of Minnesotans receiving paid leave from 25 percent to 100 percent.
Sunday, state Sen. Omar Fateh led the passage of a bill that will require a minimum pay rate for Uber and Lyft drivers and establish protections against wrongful termination or "deactivation." Currently, Uber and Lyft drivers don't receive a minimum wage, overtime pay, or Social Security and workers' compensation insurance. After the Transportation Drivers bill passed, the impacted drivers gave Fateh a free ride around the building.
\u201cSenator @OmarFatehMN gets the hero\u2019s welcome after his Transportation Drivers, aka Uber/Lyft bill, passes Senate\u201d

— John Croman (@John Croman) 1684707459
Uber and Lyft have predicted several doomsday scenarios if the bill becomes law. They've even threatened to shut down operations in the state entirely, so Walz remains non-committal.
"This is an economy that needs to be looked at," Walz said Sunday. "[The executive branch is] responsible for the implementation, so we have questions on a lot of areas that need to be answered before things come to us."
Maybe Walz will perk up on the subject if drivers give him a ride around the governor's mansion. It just looks like fun.
The DFL majority also fully legalized marijuana and provided free breakfasts and lunches to all Minnesota public school students. Look at these kids who are happy they won't starve.
\u201cAt Webster Elementary in Minneapolis, Gov. Walz signs School Meals bill, providing free breakfasts and lunches to all Minnesota public school students\u201d

— John Croman (@John Croman) 1679079655
Minnesota Democrats don't boast a gerrymandered supermajority. They have a six-vote margin in the House, and just a single vote margin in the Senate. However, there's nary a Sinema among them. That's not to say they are all far-left liberals. There are plenty of moderate Democrats. However, they want to help people, not feed their massive egos. This is good government in action.
[Star Tribune / Twitter / Minnesota Reformer]

Follow Stephen Robinson on Twitter if it still exists.
Catch SER on his new podcast, The Play Typer Guy.
Did you know SER has his own YouTube Channel? Well, now you do, so go subscribe right now!
Click the widget to keep your Wonkette ad-free and feisty.
climate change
Kim Stanley Robinson's The Ministry For The Future, Week 1.
We're starting off our summer 2023 edition of the Book Club with a book that's about as timely as you could hope for: Kim Stanley Robinson's 2020 novel The Ministry for the Future, which imagines a very near future of catastrophic climate change and a decades-long process of humanity's attempts to bring the climate crisis ... well, not under control, but to at least to remake politics and economics in a direction that's better suited to survival of the Earth's inhabitants.
For this week, I asked you to read the first chapter, which is fairly short, and and tends to stay with you after you read it. If you just got here and want to catch up, the publisher, Orbit Books, conveniently posted Chapter 1 in full right on the interwebs for free! The discussion from here will involve spoilers for the first chapter, so take a few minutes to go read it ... or maybe the discussion here will make you want to go read it.
Last summer, novelist Monica Byrne tweeted for a lot of us who have read the book:
\u201cIf you haven\u2019t\u2026.you should. Because I basically can\u2019t think about my future without it now.\u201d

— Monica Byrne (@Monica Byrne) 1628265324
I feel like my circles have divided between those who've read the opening chapter of The Ministry for the Future and those who haven't.

If you haven't….you should. Because I basically can't think about my future without it now.
Let's jump in, shall we? In this brief chapter, we meet one of the novel's many main characters, Frank May, an American everyliberal from Florida who's working at the local office of an unnamed relief NGO in a small city in Uttar Pradesh state in India. A perfect storm of atmospheric conditions leads to a long heatwave, with heat and humidity at levels — a "wet bulb" temperature of 38 degrees C (103 degrees Fahrenheit) at dawn, with 35 percent humidity — that's right on the edge of what human beings can survive.
Then the overstressed electrical grid goes down, all over the region. Things go from bad to worse. No one is coming to help. Frank does what little he can for several local families, inviting them into the clinic where he works, where there's a single window air conditioner connected by an extension cord to a portable generator on the roof. He keeps for himself the last of the water in the clinic's refrigerator, in a thermos jug he's careful not to let anyone see.
The toilets back up, the temperature keeps rising, the oldest and the youngest start dying. On the second day with no power, a group of young men break in and point a gun at Frank, telling him they'll be taking the AC and the generator.
"We need this more than you do," one of them explained.

The man with the gun scowled as he heard this. He pointed the gun at Frank one last time. "You did this," he said, and then they slammed the door on him and were gone.
And really, dear reader, Frank did. So did you. So did I. America and Europe filled the atmosphere with greenhouse gases for 150 years, and then other countries, like China, began adding their own greenhouse emissions. The countries already suffering from the worst effects of climate change — such as last year's floods in Pakistan, which killed over 1,700 people and left millions homeless — are not the countries that caused the climate disaster.
By the end of the chapter, everyone in the city except Frank is dead. He's the only person still alive in a shallow lake filled with corpses.
I'm reminded of the end of Flannery O'Connor's story "A Good Man Is Hard to Find" (spoiler coming!), where the murderous serial killer the Misfit says of the grandmother he's just killed — after her sudden realization that all humans are family to each other — "She would have been a good woman, if it had been somebody there to shoot her every minute of her life."
The first chapter of The Ministry for the Future may just be the gun we all need pointed at our own heads to make us pay attention.
So let's discuss a few things!
1) How are you doing? This chapter hits hard, but I also want to shake every elected leader in the country and tell them they have to read it. At Slate, Rebecca Onion, in an interview with Robinson, told him that the first chapter "gave me insomnia, dominated my thoughts, and led me to put the book down for a few months. Then I picked it back up and found that the remainder of it is actually quite optimistic."
Robinson replies:
I wanted pretty much the response you described. Fiction can put people through powerful imaginative experiences; it generates real feelings. So I knew the opening scene would be hard to read, and it was hard to write. It wasn't a casual decision to try it. I felt that this kind of catastrophe is all too likely to happen in the near future. That prospect frightens me, and I wanted people to understand the danger.
2) Did it work? That is, did the chapter make climate change more real to you? Or did it squick you out so badly that you stopped reading? (If so, do you think you'll pick it up again?)
3) As you'll see as we go along, this isn't whizbang laser gun science fiction. There's almost no technology we don't have today — Robinson doesn't even cheat by bringing cheap infinitely abundant fusion power online a decade from now. If anything, I think the "science" being fictionalized is about equal parts sociology and economics. Gee, I guess that was more a comment than a question.
4) Colonialism is a running theme in the novel, not only as a historical backdrop but, as is the case right now, in terms of how the damage from climate change hits less wealthy nations who had virtually nothing to do with wrecking the planet's atmosphere. And yet our focus character for Chapter 1 is Frank, an American in India. We don't get the perspective of any of the Indian characters, just the white outsider who witnesses their deaths. He's also close to death, but he is the lone survivor. As we keep reading, I'd like to hear your thoughts on how Robinson navigates questions about affluent nations and the parts of the world that have climate change landing on them like a million-pound shithammer.
Those are just starters, of course, it'd be terribly boring if y'all only address those like essay questions. Feel free to disregard them if you want to talk about other stuff, including just your visceral reactions to the story — one of the things I loved about Glen Reed, my American Lit professor at Northern Arizona University, was that on the day we discussed "A Good Man Is Hard to Find," he didn't start off with the standard stuff about O'Connor's work, her Catholic faith, and the way her stories often rise to a crisis and a "moment of grace." Instead, he said that every time he'd read the story, it just scared the hell out of him to think of his own family in such a situation: having a car wreck out in the middle of nowhere because of a bad turn, and then the person who finds you is a killer. I loved him for that.
So let's also talk about this chapter, and climate change, as humans. Let's talk about the whole book that way.
Your assignment for next Friday is a lot more than for today: Let's read through Chapter 30 (they're mostly short chapters, some only a page or less).
And if you haven't read the book (THIS week you can go do the reading right now of course), always feel free to join the conversation. It's not a class and there won't be a quiz. Also, no worries about spoilers, since for the most part this is an idea-driven book, not a plot-driven one. (We'll talk about that more next week, including the fairly common complaint from some readers that after that holy shit first chapter, the rest of the book reads like a collection of white papers, not a novel.)
The one rule I am going to enforce strictly for this post is that, to keep the conversation focused, I will remove any off topic comments and ask you to save 'em for the open thread in a couple hours, please. I'd honestly like to keep the conversation going all weekend, and if you wanna come back and say more, please do so!
So talk!
[The Ministry for the Future (Wonkette gets a bit of sales from this linky) / Slate / Chapter 1 at Orbit Books]
Yr Wonkette is funded entirely by reader donations. If you can, please give $5 or $10 a month to help us keep this little mommyblog going!
Congress
Looks like somebody has anger issues.
Rightwing Republican congressman Clay Higgins of Louisiana — known around these parts as the 'WHAR BOXES?' guy, or simply WHAR BOXES — took it upon himself to play bouncer Wednesday when a young protester got a little too mouthy during a press conference being held by prominent House Wingnut Caucus members including Higgins, Lauren Boebert (R-Colorado), Paul Gosar DDS (R-Arizona) and others. (Higgins later tweeted that the presser was about the very real threat to US sovereignty posed by the World Health Organization, which is part of the UN One-World Communist Plot, which seems like indispensable context.)
The protester, law student and organizer/troublemaker Jake Burdett, 25, told the Daily Beast he'd actually been in DC for a Medicare for All rally led by Sen. Bernie Sanders (I-Vermont), but when that was over, he saw the Freedom Caulkers setting up and decided to be a free speech pest, which is his right as an American citizen.
Spotting Gosar and Boebert, he decided to stick around. "I figured I'd ask them some tough questions," he said. "Bird-dog them, whatever you want to call it."
And indeed, as Burdett's videos show, he was definitely heckling the rightwing dipshits, which may happen when politicians hold a "press conference" in public.
\u201cI am currently being detained by DC Police for asking tough questions to far right extremist Congressmen @RepGosar and @laurenboebert at a press conference. Rep Clay Higgins proceeded to assault/physically remove me from the press conference.For this, the cops detained me,not him\u201d

— Jake Burdett (@Jake Burdett) 1684354539
In the first video, Burdett shouts questions while Gosar is speaking, asking about his appearance at a confab held by neo-Nazi Nick Fuentes, and about that embarrassing campaign ad made by Gosar's own siblings, urging people not to vote for him. As Freedom Cockups try to tell Burdett to leave, Higgins steps in to promise he'll answer all Burdett's questions later (about Gosar, sure!) if the young man will just stop recording and be quiet. Higgins does get right up in Burdett's face to deliver that offer of help.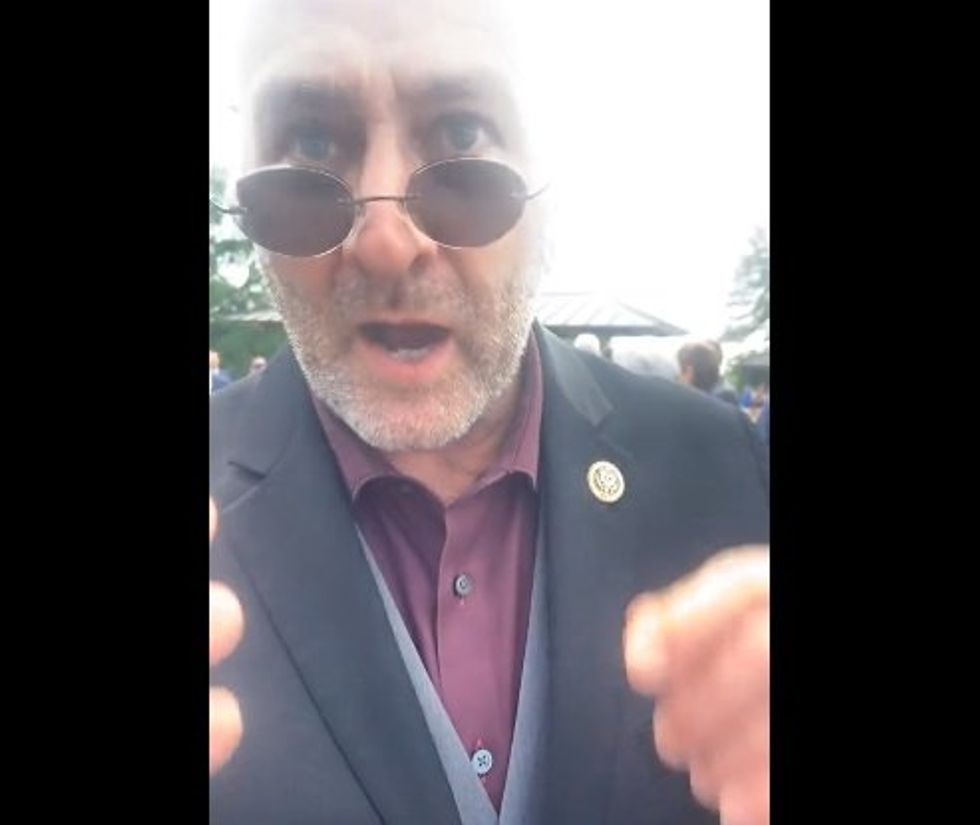 In the first video, Higgins fairly calmly introduces himself and says, "All I'm asking you to do is just peacefully stand by with your camera and I promise you — look at me — I'll come talk to you straight up and answer all your questions. Fair enough?"
And yes, Burdett wanted to know how on earth Higgins would be in a position to know anything about Gosar's very public embarrassment.
But Burdett hadda go and persist. While Boebert spoke, he asked her about her divorce, and asked her whether it was at all related to that time in 2017 when her restaurant customers got diarrhea from tainted pork sliders. Sure, it was a rude, nonsensical, pesky question. And goddamn it, it was also perfectly legal because this is America and we can ask rude stupid questions of our elected leaders in public, Crom bless our First Amendment!
And because we are indeed a nation of laws, our elected leaders are not allowed to assault us just for being annoying, although that's what Higgins did. Here's video from another angle, showing Higgins grabbing Burdett to eject him (nearly knocking over another person in the audience) and manhandling Burdett away from the speakers all the way to the sidewalk.
\u201c@RepClayHiggins pushing an activist for asking tough questions is supposed to be normal?\u201d

— Kristy Fogle PA-C (@Kristy Fogle PA-C) 1684355759
Burdett wasn't harmed or arrested; he told the Daily Beast that he was questioned for about a half hour by Capitol Police and told he could go. But he was certainly none too happy that the Capitol Cops didn't seem very interested in hearing him tell them he'd been assaulted by a member of Congress.
"It's one thing for anybody to do that," he said of Higgins' behavior. "But for a sitting U.S. congressperson to think that that's OK—it just shows an extra level of entitlement, that they feel they're untouchable and the law doesn't apply to them."
For his part, Higgins, a former sheriff who loves to act the Tough Guy, later took to Twitter to lie about the encounter, claiming that Burdett was "a 103M" (police code for "disturbance by a mental person," never mind the bad English usage) and insisting in an attached video that Burdett (an "agitator activist") was "very disruptive and threatening, in violation of the law."
\u201cActivist was a 103M. Threatening. He was escorted out and turned over to Capitol Police. Textbook.\u201d

— Rep. Clay Higgins (@Rep. Clay Higgins) 1684437436
Higgins gives himself credit in the video for having "successfully de-escalated the situation," a phrase with which we're certain the Inigo Montoya meme would take issue. He also claims that Burdett "aggressively disrupted" Boebert and "approached her in a threatening manner," which just isn't the case. He was rude and shouty, not threatening.
Say, is this a good place to mention that in 2007, Higgins, then in law enforcement, was accused of beating up an innocent bystander to an arrest, and then lying to Internal affairs to cover it up? The former cop also busted for helping with that alleged cover-up is now a congressional aide to Higgins. Higgins resigned before he could be punished for that incident.
Burdett told the Daily Beast that he's now "evaluating my options" and that "if it looks like there is a strong case for assault and [there is] an attorney willing to take on the case, I am absolutely prepared to press charges." On Twitter, when Burdett asked for any attorneys to tell him if they thought he had a case, civil rights attorney Andrew C. Laufer replied, "Yes, assault, battery, and a potential civil rights violation."

Former US Attorney and current MSNBC legal commentator Joyce Vance was succinct: "Looks like an assault to me?"
[Daily Beast / Lafayette Daily Advertiser / Salon / Nola.com]
Yr Wonkette is funded entirely by reader donations! If you can, please give $5 or $10 monthly so we can keep bringing you the hard-hitting news of tough guy members of Congress taking fascism into their own hands.
©2018 by Commie Girl Industries, Inc
This Is Not An Ad
Privacy