Culture Wars
It wasn't 'censored,' it was 'made unavailable' to elementary students. They can read it in middle school if they aren't shot by then.
Previously: After Vogon Poetry Years Of President Before Biden, Let's End Our Day With Amanda Gorman's Inauguration Poem
But darn it, the poem and some books about Cuba and Black history were simply too much for one angry parent, who demanded that they all be removed forever so they wouldn't fill little kids with Wrongthink, according to documents released by the kick-ass anti-censorship nonprofit The Florida Freedom to Read Project. Specifically, and ungrammatically, the complaint about the poem explained it "is not educational and have indirect hate messages." The parent who complained also listed "Oprah Winfrey" as the author, apparently because Oprah's name is on the cover — she wrote the foreword.
In a statement, Gorman said she felt "gutted" by the action against her poem, noting that book censorship frequently targets those "who have struggled for generations to get on bookshelves," and that the "majority of these censored works are by queer and non-white voices."
She said that she'd written "The Hill We Climb"
so that all young people could see themselves in a historical moment. Ever since, I've received countless letters and videos from children inspired by The Hill We Climb to write their own poems. Robbing children of the chance to find their voices in literature is a violation of their right to free thought and free speech.
Well sure, but what about all the hidden hate messages, which were in fact so well hidden that we couldn't even find them in the text of the poem that the parent complained about:
We've braved the belly of the beast.
We've learned that quiet isn't always peace,
And the norms and notions of what "just is"
Isn't always justice

And yet the dawn is ours before we knew it.
Somehow we do it.
Somehow we've weathered and witnessed
A nation that isn't broken, but simply
unfinished
I guess it must be CRT because discrimination is in the past so why bring it up? Or the Mad Mom thought it invoked the chant "No Justice, No Peace"?
The Miami Herald, which first broke the story (subscriber-only link), explains that as a result of the challenge, four of the five titles the parent was unhappy about were placed on the middle school shelves at one school that houses kindergarten through 8th grade, but not removed entirely — just de facto unavailable to kids up to fifth grade. Stephana Ferrell, director of research and insight for Florida Freedom to Read, told the Herald that moving the books

underscores a growing trend to redefine what is considered age appropriate, "especially regarding books that address ethnicities, marginalized communities, racism or our history of racism."

"Books written for students grades K-5 are being pushed to middle school [libraries and] out of reach for the students they were intended for," she said. The books aren't being banned from the district, she argued, "but they're banned for the students they were intended for."
Before you know it, schools will be insisting that moving the Gay Penguin book to county nursing homes isn't censorship, it's simply about making it available to an "appropriate" age group.
The Herald spoke to Daily Salinas, who is not a newspaper in California but actually the parent who complained about the poem and other titles, and who wanted them removed "from the total environment," although she also said she isn't for censorship, no, not at all. In addition to "The Hills We Climb," she objected to four other titles, The ABCs of Black History,Cuban Kids,Countries in the News: Cuba, and Love to Langston,all four of which are aimed at elementary school readers.
After the Herald story published, the Florida Freedom to Read Project posted to Twitter the complaint forms for the four books, in which Salinas complained the Cuba books indoctrinated students with "socialism" and "communism" because duh, it's Cuba and "Castros are the dictators." The other two books have Black people in them, so they are of course filled with "CRT" and "indoctrination," because little kids are ripe for critical race theory, the law school area of study. Also, The ABCs of Black History allegedly includes both "CRT and Gender Ideology," whatever that might mean to Ms. Salinas.
A review committee examined the books and found that none of them were guilty of "indoctrination," hooray, but the committee also decided that only one book, Countries in the News: Cuba, was "balanced and age appropriate in its wording and presentation," so it could stay in the elementary section of the library. The other four were found to be "more appropriate" for middle schoolers, although how exactly that was determined seems iffy.
The committee sent Gorman's poem to the middle school shelves because its "vocabulary" was "of value to middle school students"; it was also found to be "of historical value" and therefore not too indoctrinatey.
Despite Love to Langston being labeled for ages 8 to 11, it too was sent up to middle school, because the "content and subject matter of poems in this collection were determined to be better suited to middle school students." The poetry, we'll add, is by the author, Tony Medina, as a biography in verse of Langston Hughes. Maybe it's just too incendiary for nine-year-olds. The content in Cuban Kids was also found to be better for middle schoolers, although it's mostly just a collection of, as the title says, photos of kids in Cuba.
Finally, the most absurd decision sent a freaking alphabet book, The ABCs of Black History, to the middle school shelves, with the bizarre logic that
although the book's illustrations, presentations, and book jacket indicate this book was written for ages 5 and up, the [committee] determined the vocabulary and subject matter presented was more appropriate for middle school students.
We all know how jazzed kids in grades six through eight are about learning their ABCs, or perhaps in the minds of the committee, their BLMs and their ACABs.
So let's all celebrate that instead of being banned, these works have been relegated to the middle school shelves of the library, where only the Gorman poem is likely to ever be picked up by an actual student. (Have you met middle schoolers? They tend to react to anything they think is for little kids like it was Kyryptonite Jr.)
The Herald asked Ms. Salinas, who is not for censorship, what she thought of the decision to retain one book in the elementary section and move the others to the middle school section. She wasn't too happy, saying that
the books should have been removed for all students. School libraries are meant "to support the curriculum of the school and I don't see how these books support the curriculum," she said.
And finally, we should note that, according to a Twitter thread, with photos, posted by "Miami Against Fascism," Ms. Salinas isn't only a would-be schoolbook censor who rallies with Moms for Liberty/Censorship; she's also attended Proud Boys events and appears to have posted to Facebook a summary of the "Protocols of the Elders of Zion," so that's nice.
[NBC News / Miami Herald (subscribers only) / Florida Freedom to Read Project / WaPo (gift link) / Amanda Gorman on Twitter / Florida Freedom To Read Project on Twitter]

Yr Wonkette is funded entirely by reader donations. If you can, please give $5 or $10 a month so we can keep you up to date on all the latest squirmishes in the Culture Wars. If you're shopping at Amazon, use the link below and we'll get a little something from all sales; same for the books linked in this article!
White Nonsense
And do other stuff good too.
Last week, the NAACP issued a travel advisory for the less-than-free state of Florida, stating that Gov. Ron DeSantis's policies were an "all-out attack on Black Americans" and other minorities. Sen. Ted Cruz tweeted in response, "This is bizarre. And utterly dishonest." The noted civil rights scholar conceded that the NAACP had done "extraordinary good" during the 1950s and 1960s (when he wasn't yet alive) but "today Dr. King would be ashamed of how profoundly they've lost their way."
Martin Luther King Jr. Day was months ago, so Cruz is insulting his memory out of season — sort of like wearing a white hood after Labor Day. Historian Kevin M. Kruse, who corrects right-wing doofuses as a hobby, pointed out that in 1965, "Dr. King called for a national boycott of the state of Alabama, saying that Democratic Gov. George Wallace's policies constituted 'a reign of terror' against Black Americans."
Cruz, who obviously enjoys humiliating himself publicly, replied, "George Wallace was a Democrat — your party — and an incorrigible racist. Dr. King's standing up to his bigotry was heroic & helped change America. Florida today, by contrast, is an oasis of freedom, which is why vast numbers of African-Americans are moving there."
The Black people who move to Florida aren't voting for DeSantis or any other Republican in "vast numbers," either. Last year, 86 percent of Black Floridians voted Charlie Crist for governor and 90 percent backed Val Demings for Senate. These numbers are probably why Florida Republicans go to such great efforts to keep Black people from voting.
George Wallace was Donald Trump in training wheels, and Ron DeSantis is more like Wallace than he is New York Republican Gov. Nelson Rockefeller, whom Dr. King respected.
PREVIOUSLY:
Sorry, GOP, You're The Party Of President Klan Robe Now, Not Lincoln
Ted Cruz Being Incorrect A-Hole About Civil Rights History Again
Cruz promotes the bogus right-wing narrative that white Southern Democrats were really racist, but then Dr. King and the Civil Rights Movement fixed all that with the help of noble Republicans. Apparently, Black people just got really confused and abandoned all their allies in the Republican Party. Only Clarence Thomas, Tim Scott, and Candace Owens have the special They Live glasses to see that Democrats are the true racists.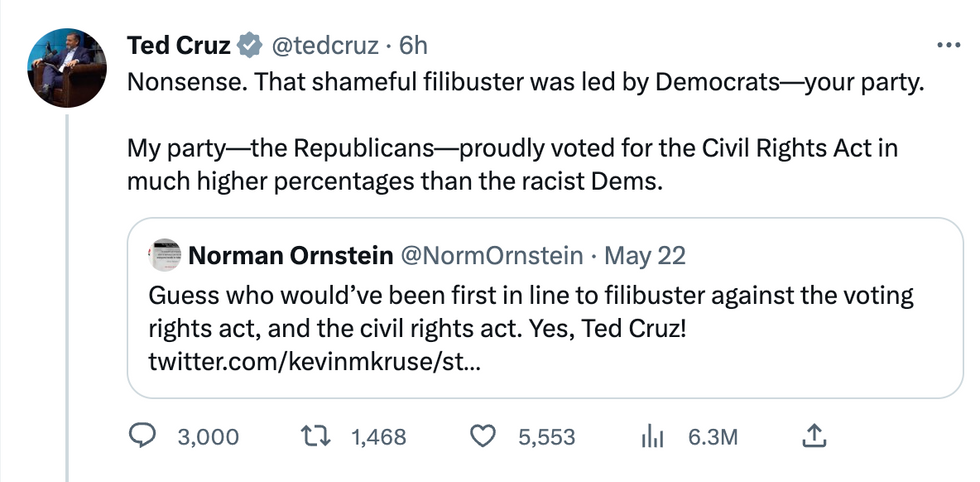 Cruz claims that racist Democrats led the filibuster against the Civil Rights Act and that his party "proudly voted" for the legislation in larger numbers than Democrats. This is masterful trolling, considering that in Texas itself, the Democratic senator (Ralph Yarborough) voted for the Civil Rights Act, and the Republican (John Tower) opposed it. Democratic President Lyndon B. Johnson signed the Civil Rights Act and his Republican opponent Barry Goldwater opposed it. Dr. King described the 1964 Republican National Convention as "the frenzied wedding ... of the KKK with the radical Right."
\u201cLegendary political cartoonist Bill Mauldin on the 1964 Republican National Convention, an event Martin Luther King Jr. described as "the frenzied wedding ... of the KKK with the radical right."\u201d

— Kevin M. Kruse (@Kevin M. Kruse) 1684848811
It didn't matter if Goldwater himself was as personally racist as Strom Thurmond. They still shared a common cause.

Goldwater said he supported the white Southern position on civil rights, which was that each and every state had a sovereign right to control its laws. The Arizona Republican argued that each American has the right to decide whom to hire, whom to do business with and whom to welcome in his or her restaurant. The senator was right at home with Southern politicians who called the Civil Rights Act an attack on "the Southern way of life."
It's especially insulting that Cruz treats political parties as fixed entities. Bob Dole complained in 2015 that Cruz "uses the word 'conservative' more than he ever uses the word 'Republican.'" Cruz usually describes himself as a "conservative" or a "constitutionalist," so it's not a stretch to imagine him as a Goldwater Boy. The Republicans who'd supported civil rights were liberals and (at best) moderates, and they were purged from the party once Ronald Reagan was elected.
The former California governor said the Voting Rights Act was "humiliating to the South" and only grudgingly extended it in 1982 after political pressure. Reagan vetoed the Civil Rights Restoration Act in 1988 and his Equal Opportunity Commission, as well as his Justice Department, prosecuted fewer civil rights cases than they had under Jimmy Carter, the former governor of Georgia.
Republicans might insist on calling themselves the "party of Lincoln," but it was the spiritual descendants of John Wilkes Booth who stormed the Capitol on January 6 and who control the party today.
[NPR]

Follow Stephen Robinson on Twitter if it still exists.
Catch SER on his new podcast, The Play Typer Guy.
Did you know SER has his own YouTube Channel? Well, now you do, so go subscribe right now!
Click the widget to keep your Wonkette ad-free and feisty.
Education
There's an oil barge winding through the Ohio Legislature.
The Ohio state Legislature is taking its own shot at eliminating all the liberal indoctrination Republicans are certain is running amok in universities, with a bill that not only prohibits most diversity, equity, and inclusion (DEI) initiatives and "implicit bias" training, but also requires that instructors not promote any particular view on any "controversial topic" like climate change, diversity, abortion, or foreign policy, among others. The bill has already passed in the state Senate, and is now being considered in the state House, which has a Republican supermajority. The official title of Senate Bill 83 is the "Higher Education Enhancement Act," but I'm just going to call it the Flat Earth Equal Time Act if you don't mind.
For all "controversial "topics, instructors would be required to "allow and encourage students to reach their own conclusions" and "shall not seek to inculcate any social, political, or religious point of view." Should be fun when a student sues to have openly white supremacist materials included in a syllabus. Or an oil company sues over climate science being taught accurately.
When he introduced SB 83 in March, state Sen. Jerry Cirino (R-Did We Have To Say?) explained that
it was his idea to include climate change as a "controversial" belief or policy, and that he "didn't actually consult with climate people.".

"My agenda was not to use this bill to impact energy policy," Cirino said. However, he also said, "What I think is controversial is different views that exist out there about the extent of the climate change and the solutions to try to alter climate change."
So yeah, that translates to "let's not actually limit greenhouse emissions, because as the copyrighted 2009 cartoon by Joel Pett in USA Today asked, 'What if it's a big hoax and we create a better world for nothing?'"
Naturally enough, actual scientists are aghast at the bill, pointing out that there really is no "other side" to the fact that humans have caused global warming by burning fossil fuels, which add carbon dioxide and other greenhouse gases to the atmosphere, causing dangerous heating of the planet. There also isn't any actual controversy over what's needed: We need to sharply reduce greenhouse gas emissions — and eliminate them altogether — as quickly as possible.
There are plenty of discussions about the best way to achieve that goal, which we suppose may fit Cirino's suggestion that there's "controversy" over "the solutions to try to alter climate change," but not a single one of the options includes "keep burning coal and oil." Really!

Glenn Branch, deputy director of the National Center for Science Education, warned that if the law is enacted, it's "going to have a chilling effect" on science education, since many instructors might decide it's safer to not say much about climate change at all if they think they have to include climate denial nonsense and "alternative" views. Jeez, you scientists, isn't some chilling exactly what we need to counteract all this warming?
The bill's language is particularly vague and circular when it comes to even defining what topics are "controversial" and in need of both-sidesing in classes. It specifies some, but the language is very open-ended:
"Controversial belief or policy" means any belief or policy that is the subject of political controversy, including issues such as climate policies, electoral politics, foreign policy, diversity, equity, and inclusion programs, immigration policy, marriage, or abortion.
Got it? A controversial topic is any topic that "is the subject of political controversy," so tread carefully and include all sides. Including, we guess, advocacy of plural marriage and mandatory abortion? And of course, many evangelicals consider evolution controversial, so Ohio biology curricula could be in for a surprise.
Hilariously, though, another provision of the bill makes clear that some "foreign policy" matters should have only one side, since it limits a wide range of cooperative agreements with China, and specifies that Ohio universities "may endorse the congress of the United States when it establishes a state of armed hostility against a foreign power."
Another section of the bill shoehorns in the now-familiar cookie-cutter prohibitions on "divisive concepts" that must not be taught, like the very ideas of inherent bias, white privilege, or systemic racism.
Previously In The Syllabus:
Georgia Schoolchildren Will Just Have To Learn All History From Confederate Statues
David Duke Thanks Tucker Carlson For Spreading 'Great Replacement' Lie
Federal Judge Stops DeSantis's 'Stop WOKE' Law, Because ARE YOU F*CKING KIDDING HIM
The bill's multi-pronged attack on diversity, equity, equity, and inclusion also led to widespread condemnation, obviously, because most university faculty, students, and officials aren't consumers of rightwing media who are worried about the Great Replacement conspiracy theory.
That said, Dayton TV station WKRC did manage to scrape up one professor at the University of Cincinnati, criminologist John Paul Wright, who fretted about the school's diversity and inclusion webpage, and who claimed he heard a colleague say they "will never hire another white male." Dude is a proponent of some seriously racist "science," and has called for more research on "the role biology plays in criminal behavior." I'd say that this guy and his calipers account for all the "intellectual diversity" Ohio universities can stand, honestly.
Shortly before the Ohio Senate passed it, The Board of Trustees of The Ohio State University officially opposed SB 83, stating that it raised First Amendment issues and warning that it could harm the university's ability to "attract the best students, faculty, and researchers." It further said the bill could affect "the quality of higher education at all Ohio public universities," even the ones that don't insist on having a capitalized definite article in their names.
During debate on the bill, however, Cirino insisted Ohio wouldn't experience any such brain drain, and would actually make Ohio schools more gooder by attracting ... well, people with calipers, basically:
"When all is said and done here, our universities are going to be better," he said. "We are going to attract more people who have been turned away because of the liberal bias that is incontrovertible in our institutions in Ohio."
In addition to the gross limitations on academic freedom, which are lawsuit bait if we ever saw it, just like Ron DeSantis's "Stop WOKE" law, SB 83 would ban strikes by academic workers, require all students to take a course in American history of government — presumably, only the GOOD parts — cut the terms of university and college boards of trustees so they can be replaced by patriots, and would weaken tenure protections.
And if it passes in the state House, will GOP Governor Mike DeWine sign it? How's this for some impressive waffling? Earlier this month, before it passed in the Senate, DeWine simply said it was still "a work in progress" and that "I have not seen the latest version." Sounds to us like he wants to follow the spirit of the bill and not take any particular position at all. We'd like to hope the near-universal condemnation of the bill, which will dumb down another great university system, might put his feet to the fire — as long as it's burning green hydrogen, of course.
[Ohio Senate Bill 83 / Ohio Capitol Journal / USA Today / Ohio Capitol Journal]
Yr Wonkette is funded entirely by reader donations. If you can, please give $5 or $10 a month so we can keep you up to date on the vast wave of stupid in this country. And remember, the Wonkette Book Club is reading Kim Stanley Robinson's 2020 climate novel The Ministry for the Future,so join us Friday to chat about Chapters 2 through 30 (they're short chapters!) More details and Part One of our book club discussion here!
Congress
Looks like somebody has anger issues.
Rightwing Republican congressman Clay Higgins of Louisiana — known around these parts as the 'WHAR BOXES?' guy, or simply WHAR BOXES — took it upon himself to play bouncer Wednesday when a young protester got a little too mouthy during a press conference being held by prominent House Wingnut Caucus members including Higgins, Lauren Boebert (R-Colorado), Paul Gosar DDS (R-Arizona) and others. (Higgins later tweeted that the presser was about the very real threat to US sovereignty posed by the World Health Organization, which is part of the UN One-World Communist Plot, which seems like indispensable context.)
The protester, law student and organizer/troublemaker Jake Burdett, 25, told the Daily Beast he'd actually been in DC for a Medicare for All rally led by Sen. Bernie Sanders (I-Vermont), but when that was over, he saw the Freedom Caulkers setting up and decided to be a free speech pest, which is his right as an American citizen.
Spotting Gosar and Boebert, he decided to stick around. "I figured I'd ask them some tough questions," he said. "Bird-dog them, whatever you want to call it."
And indeed, as Burdett's videos show, he was definitely heckling the rightwing dipshits, which may happen when politicians hold a "press conference" in public.
\u201cI am currently being detained by DC Police for asking tough questions to far right extremist Congressmen @RepGosar and @laurenboebert at a press conference. Rep Clay Higgins proceeded to assault/physically remove me from the press conference.For this, the cops detained me,not him\u201d

— Jake Burdett (@Jake Burdett) 1684354539
In the first video, Burdett shouts questions while Gosar is speaking, asking about his appearance at a confab held by neo-Nazi Nick Fuentes, and about that embarrassing campaign ad made by Gosar's own siblings, urging people not to vote for him. As Freedom Cockups try to tell Burdett to leave, Higgins steps in to promise he'll answer all Burdett's questions later (about Gosar, sure!) if the young man will just stop recording and be quiet. Higgins does get right up in Burdett's face to deliver that offer of help.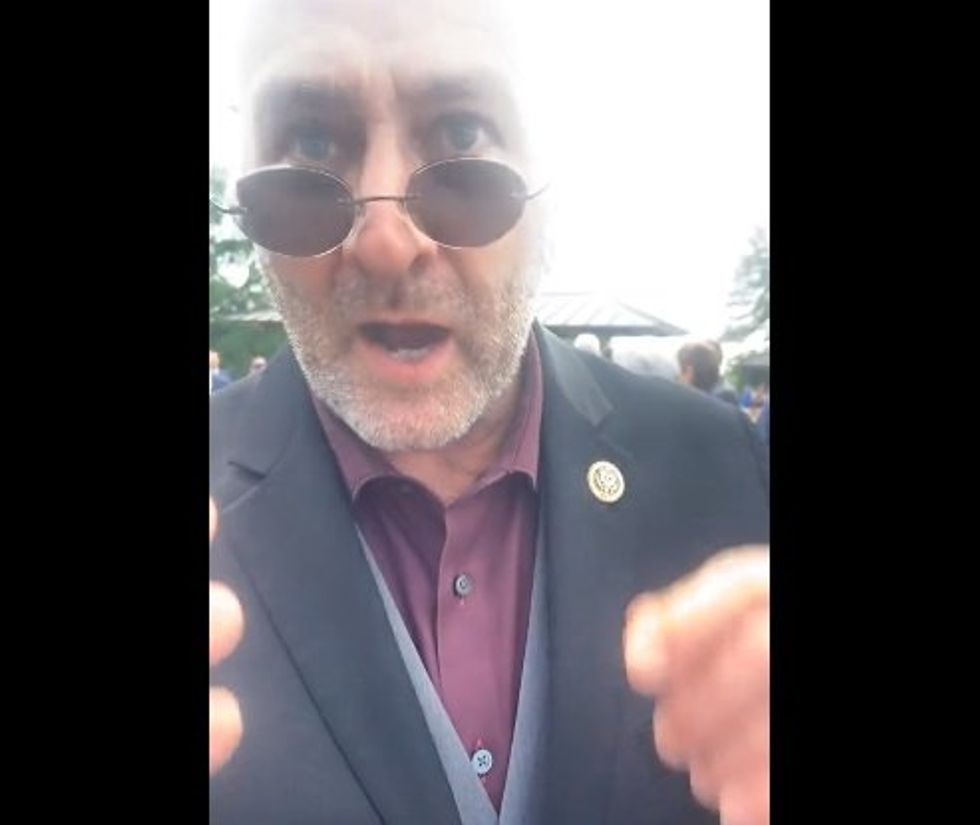 In the first video, Higgins fairly calmly introduces himself and says, "All I'm asking you to do is just peacefully stand by with your camera and I promise you — look at me — I'll come talk to you straight up and answer all your questions. Fair enough?"
And yes, Burdett wanted to know how on earth Higgins would be in a position to know anything about Gosar's very public embarrassment.
But Burdett hadda go and persist. While Boebert spoke, he asked her about her divorce, and asked her whether it was at all related to that time in 2017 when her restaurant customers got diarrhea from tainted pork sliders. Sure, it was a rude, nonsensical, pesky question. And goddamn it, it was also perfectly legal because this is America and we can ask rude stupid questions of our elected leaders in public, Crom bless our First Amendment!
And because we are indeed a nation of laws, our elected leaders are not allowed to assault us just for being annoying, although that's what Higgins did. Here's video from another angle, showing Higgins grabbing Burdett to eject him (nearly knocking over another person in the audience) and manhandling Burdett away from the speakers all the way to the sidewalk.
\u201c@RepClayHiggins pushing an activist for asking tough questions is supposed to be normal?\u201d

— Kristy Fogle PA-C (@Kristy Fogle PA-C) 1684355759
Burdett wasn't harmed or arrested; he told the Daily Beast that he was questioned for about a half hour by Capitol Police and told he could go. But he was certainly none too happy that the Capitol Cops didn't seem very interested in hearing him tell them he'd been assaulted by a member of Congress.
"It's one thing for anybody to do that," he said of Higgins' behavior. "But for a sitting U.S. congressperson to think that that's OK—it just shows an extra level of entitlement, that they feel they're untouchable and the law doesn't apply to them."
For his part, Higgins, a former sheriff who loves to act the Tough Guy, later took to Twitter to lie about the encounter, claiming that Burdett was "a 103M" (police code for "disturbance by a mental person," never mind the bad English usage) and insisting in an attached video that Burdett (an "agitator activist") was "very disruptive and threatening, in violation of the law."
\u201cActivist was a 103M. Threatening. He was escorted out and turned over to Capitol Police. Textbook.\u201d

— Rep. Clay Higgins (@Rep. Clay Higgins) 1684437436
Higgins gives himself credit in the video for having "successfully de-escalated the situation," a phrase with which we're certain the Inigo Montoya meme would take issue. He also claims that Burdett "aggressively disrupted" Boebert and "approached her in a threatening manner," which just isn't the case. He was rude and shouty, not threatening.
Say, is this a good place to mention that in 2007, Higgins, then in law enforcement, was accused of beating up an innocent bystander to an arrest, and then lying to Internal affairs to cover it up? The former cop also busted for helping with that alleged cover-up is now a congressional aide to Higgins. Higgins resigned before he could be punished for that incident.
Burdett told the Daily Beast that he's now "evaluating my options" and that "if it looks like there is a strong case for assault and [there is] an attorney willing to take on the case, I am absolutely prepared to press charges." On Twitter, when Burdett asked for any attorneys to tell him if they thought he had a case, civil rights attorney Andrew C. Laufer replied, "Yes, assault, battery, and a potential civil rights violation."

Former US Attorney and current MSNBC legal commentator Joyce Vance was succinct: "Looks like an assault to me?"
[Daily Beast / Lafayette Daily Advertiser / Salon / Nola.com]
Yr Wonkette is funded entirely by reader donations! If you can, please give $5 or $10 monthly so we can keep bringing you the hard-hitting news of tough guy members of Congress taking fascism into their own hands.
©2018 by Commie Girl Industries, Inc
This Is Not An Ad
Privacy