Journalism
But yes please, Beltway journalists, hug her and tell her she did a good job Tuesday night.
Ever since Tuesday night, much of the media discussion has been, correctly, about the journalistically stupid and bankrupt decision the hack suits at CNN made to let Donald Trump have a free hour to spew fascist lies and propaganda, and the shitty, fuckin' lazy job Kaitlan Collins did moderating the "town hall."
And just like clockwork, Beltway hack journalists who lost the plot a long time ago of what journalism is supposed to do surrounded poor Ms. Collins to assure her she had done a wonderful job with the Herculean, perhaps scientifically UNPOSSIBLE job of fact-checking Donald Trump in real time.
You know, as if she was the second coming of Maggie Haberman or something.
An example of the genre:
\u201cProps to @kaitlancollins who was in an impossible position but did a heroic job of fact-checking Trump throughout the town hall. No easy task given how many factually untrue things he said in such a short time. Collins was a true pro and showed what a stellar journalist she is.\u201d

— Peter Baker (@Peter Baker) 1683767657
Oh for God's sake.
We'll get back to him in a minute.
But first we want to remind everybody what Kaitlan Collins's job used to be, before she was a VERY SERIOUS CNN JOURNALIST who gets to "moderate" CNN town halls and do a "heroic job of fact-checking Trump throughout."
Let's visit the year 2015, when serious journalist Kaitlan Collins was ... [checks notes] ... writing sexist BuzzFeed-style listicles for the amusement of white nationalist Tucker Carlson, at the white nationalist Daily Caller website he founded.
Like this one, 13 Syrian Refugees We'd Take Immediately.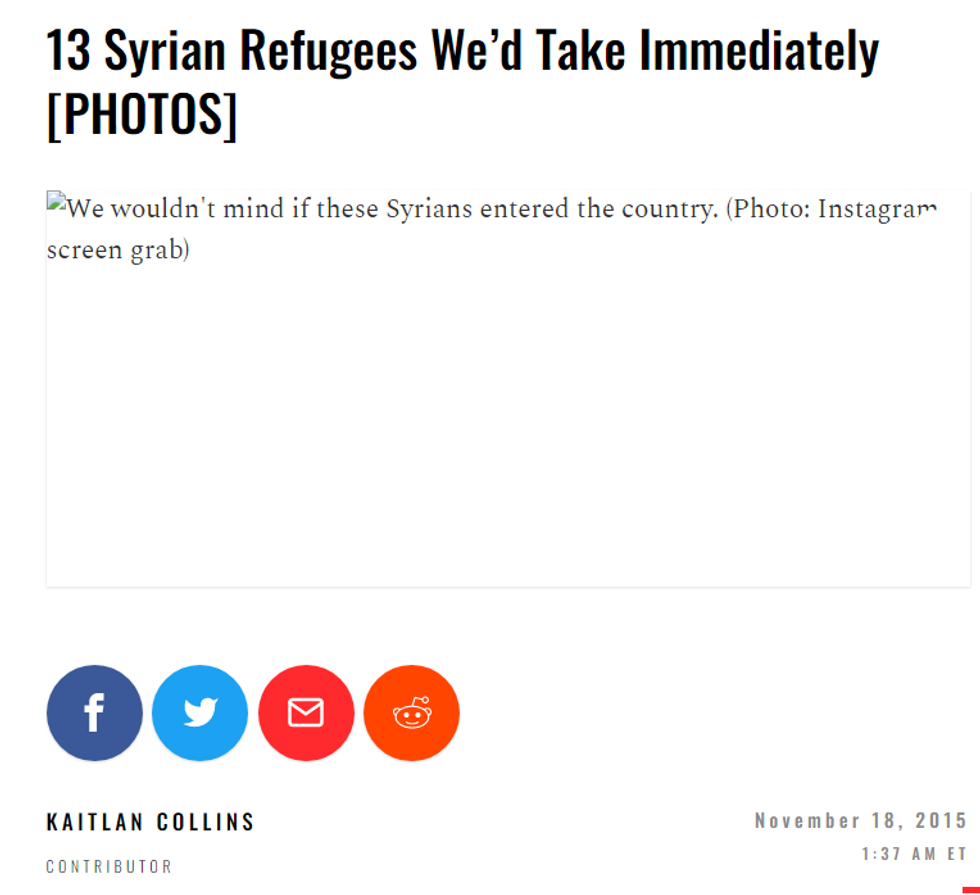 Note the byline.
Yes, this was when the Syrian refugee crisis was front page news, and this was Collins's and the Daily Caller's response.
The picture links are broken now — and were very soon after publication, perhaps because of the immediate backlash — but it was all Syrian women Ms. Collins wrote were "Syria-sly hot."
Isn't she such a journalist?
Collins was also responsible in 2014 for "Ice Bucket Challenge Hipsters: These Guantanamo Detainees Did It First." Surprise, all the pictures on that one are now missing as well.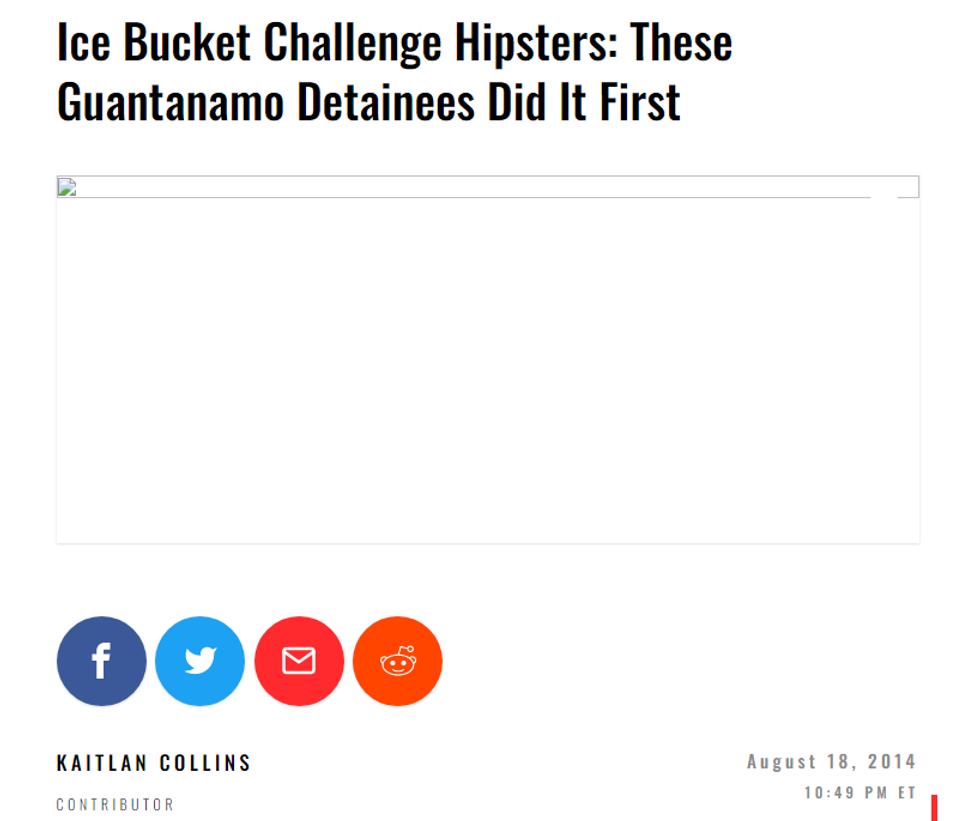 In that article, Collins attempted to write jokes:
Khalid Sheikh Mohammed was transferred to Guantanamo in 2006 after his 2003 capture in Pakistan. He has been identified by the "9/11 Commission Report" as the "mastermind of the 9/11 plot." In 2008, CIA Director Gen. Michael V. Hayden publicly boasted that waterboarding had been used on KSM, making him one of the first hipsters to partake in the "Ice Bucket Challenge." He tops the list because KSM took the challenge a record 183 times.
Conservatives are getting better at humor, etc. Even back in 2014.
So that is the serious person all the hacks in DC are rallying around right now.
Now let's revisit that tweet at the top, where Peter Baker of the New York Times fawned all over what a wonderful job Collins had done with the journalistic feats of strength she had accomplished.
We responded on Twitter. You may click here to read the thread, or we will just reproduce the text below:
\u201cI am so tired of journalists patting each other on the back acting like factchecking Trump is such an impossible task, and that anyone who attempts it is some kind of hero. \n\nHe tells the same lies every time. He has a million of them, but they are always the same. \n\nEXAMPLE!\u201d

— Evan Hurst (@Evan Hurst) 1683772623
Text:
I am so tired of journalists patting each other on the back acting like factchecking Trump is such an impossible task, and that anyone who attempts it is some kind of hero. He tells the same lies every time. He has a million of them, but they are always the same. EXAMPLE!

Abortion. Trump has been telling the same disgusting lies about abortion, and about how Democrats let the baby be born and cry on the table while they decide whether to execute it for SEVERAL YEARS NOW. It is not a feat of journalistic strength to be ready for this.

Pick a subject, any subject. There are only so many things you can talk to him about in a one hour town hall. Do a half assed job of research into the lies he tells about those things, and be ready with the facts. I swear to Christ.

If your network is so far up its both sides ass that it thinks it necessary to give an indicted authoritarian fascist serial sexual assaulter free airtime, the least you can do is prepare.

The full timers and freelancers at @Wonkette could pull this off, and there's like eight of us total. For God's sake.
Every word of that is true, except for we are too lazy to count up all of the five to 10 people who work at Wonkette to arrive at a precise number.
The mainstream media has not learned a thing in the last eight years — counting from Trump descending the escalator in 2015 and calling Mexicans rapists — and now we get to be subjected to all the media's explainings about how the American people deserve to hear both sides of whether the indicted authoritarian fascist serial sexual assaulter we mentioned (also a compulsive liar) should get to be the next president of the United States. You know, after he incited a terrorist attack against America in the process of trying to overturn the election and overthrow the government.
Because that's what journalism is. Showing both sides. Of all things. Because all things have both sides.
Goddamned fucking hacks.
Give Wonkette money and support us and the others out there who are actually willing to tell you the truth.
Need more inspiration for that?
Listen to this shit from Anderson Cooper last night.
\u201cCooper: You have every right to be outraged today and angry and never watch this network again. But do you think staying in your silo and only listening to people you agree with is going to make that person go away?\u201d

— Acyn (@Acyn) 1683850121
They will never, ever learn.
Follow Evan Hurst on Twitter right here.

I would like a BlueSky invite.
I'm also giving things a go at the Mastodon (@evanhurst@newsie.social) and at Post!

Have you heard that Wonkette DOES NOT EXIST without your donations? Please hear it now, and if you have ever enjoyed a Wonkette article, throw us some bucks, or better yet, SUBSCRIBE!
©2018 by Commie Girl Industries, Inc
This Is Not An Ad
Privacy