Politics
It's your never-ending Sunday show rundown!
Republicans long for a past that never was, and this inevitably leads them to sound like idiots as they twist themselves into pretzels trying to rationalize their calls for societal regression. Need examples? Let's look at some in the Sunday shows!
We're Not Book Burning, You're the Book Burning!
Republican National Committee Chair Ronna Romney McDaniel was on "Fox News Sunday," and while discussing the party's post 2022 debrief report, she said a few things that were surprisingly truthful.
MCDANIEL: [...] biggest takeaway we are taking is independents did not break our way, which has to happen if we're going to win in 2024, which usually that's what causes that red wave. And abortion was a big issue in key states like Michigan and Pennsylvanian. [...] Republicans are migrating. They are migrating to red states. [...] But it means the White House electorally isn't available to us unless we go through a purple or blue state. And those states are getting bluer, because red voters are moving to the red states. [...] the path to the White House runs not just through independents, but every single Republican getting on board.
It's pretty shocking to hear anyone in the RNC, much less its chairperson, point out an objective reality. So what different actions or rhetoric do they plan to use to better their chances in 2024? Like, for example, abortion:
MCDANIEL: [...] What abortion is a bad idea to Democrats? Ninth month, eighth month, seventh month? They can't even articulate an abortion that's a bad idea. Gender selection, if it's a girl, you get to abort it. Tax-funded abortions for people where it's against their religious conscience. [...]
Nothing, then. They plan on changing nothing and expecting different results. If only there was a phrase for that.
Actually, correction, they do have another political strategy: The ole' "we're rubber, you're glue"!
When asked about Republican attacks on trans people, which are politically unpopular, McDaniel attempted some very strained whataboutism.
MCDANIEL: [...] the Democrats are using this word book banning. [...] That's a lie. There isn't book banning. What Republicans are doing are protecting our children and parental rights [...] But it's good to know the Democrats playbook and we're going to push on that, especially coming from the Democrat party that is banning freedom of speech, that is canceling people, that is destroying your life if you don't think with their orthodoxy. This is the Democrat Party who is saying if you think outside of the box and everything, we are dictating to you, you will make you lose your job, we will destroy you.
Republicans have literally been fighting Disney because it dared exercised free speech, made book banning much easier, extended Florida's "Don't Say Gay" bigotry, and threatened to separate children from parents who are not bigoted toward their trans kids. But, sure, it's the Democrats who are "destroying anyone who doesn't conform to orthodoxy and taking their jobs while threatening to destroy them."
Speaking of, how's that dirt file on fired Fox News host Tucker Carlson?
Let's Default Our National Debt!
House Republican Whip Tom Emmer appeared on CNN's "State of The Union" and wouldn't directly state that his party won't force a default on the nation's debt.
Host Dana Bash tried pointing out specifically how the cuts they want would hurt his constituents, but Emmer made it clear he will ignore them or just blame Nancy Pelosi when the reality doesn't match his delusions.
GOP's Vanity Tech Douche Candidate Returns
NBC's "Meet The Press" had on Republican presidential candidate Vivek Ramaswamy. Although considering his polling, calling him a candidate is a bit too generous, but nonetheless, we are all subjected to his stupidity on TV and expected to take him seriously. So fresh from giving Don Lemon his last good journalistic moment on CNN, Ramaswamy made Chuck Todd look like Walter Cronkite.
When Ramaswamy brings up an example of a person who says their gender doesn't align with their biological sex, he seems to know the difference between sex and gender. But when Todd questions his stance on gender being binary, Ramaswamy then perhaps deliberately conflates biological sex with gender.
RAMASWAMY: Well, there's, there's two X chromosomes if you're a woman. An X and a Y, that means you're a man.

TODD: There's a lot of scientific research out there –

RAMASWAMY: There's a biological basis for this —

TODD: There's a lot of scientific research out there that says gender is a spectrum.

RAMASWAMY: Chuck, I respectfully disagree.
Funny how these transphobic clowns want to bring biology into this UNTIL scientific research disputes their transphobia and then they fall back on what they "feel" or disagree just because.
Ramaswamy also equates abortion with murder but says it's a "states' right issue." That's not how "states' rights" work, even if a Republican nominee barely polling above skim milk says so.
Asa Hutchinson's Decimal Points
Speaking of polling, Asa Hutchinson announced he was running for president almost exactly a month ago. He appeared on CNN's "State Of the Union" this week to call for going back to a Republican Party that died long before Trump came down an escalator in 2015. So how are Republican voters embracing this? We'll let this picture summarize it.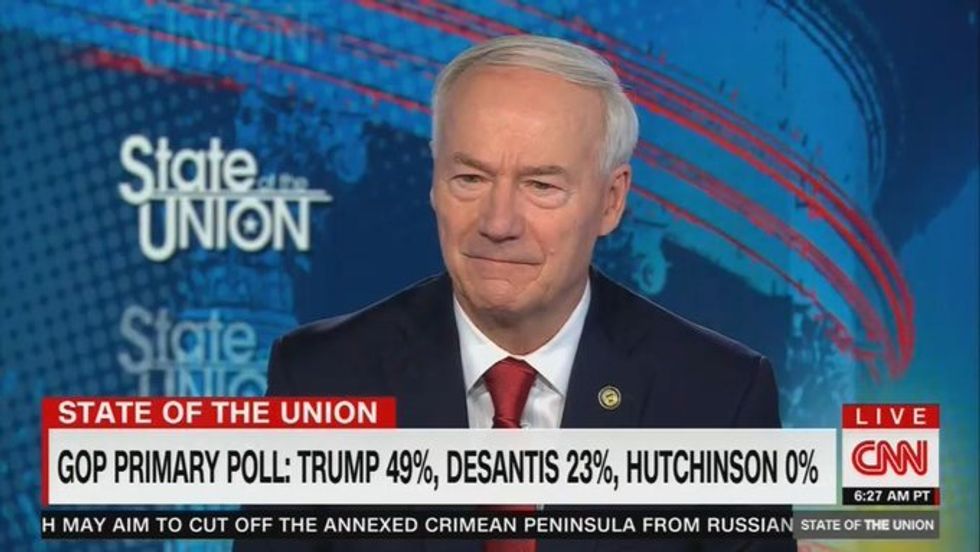 Can this change for Hutchinson? Likely not when he is polling lower than the fictional Conor Roy in "Succession," who we actually compared to Hutchinson too optimistically.
Phrasing, Steve Scalise!
When asked about any possible tension between himself and House Speaker Kevin McCarthy on ABC's "This Week," Steve Scalise chose an odd way to describe their closeness yet trust.
Could be worse: Scalise could have kept misunderstanding what "raw dog" is.
Have a week
©2018 by Commie Girl Industries, Inc
This Is Not An Ad
Privacy