2022 congressional elections
We watch so you never have to!
November 14, 2022 12:36 PM
Seems like after months of measuring office spaces and salivating over taking power, the GOP has snatched relative defeat from the jaws of historical victory. It's even more deliciously enjoyable because of Fox News's surprise that its propaganda couldn't just manifest into reality, thus leading to this great compilation of their "Red Wave" hype from the Washington Post:
With Democrats holding the Senate and possibly still keeping the House after the midterms, let's check the Sunday shows to see some reactions!
The 'Inspiring' Bill Cassidy
Over on NBC's "Meet The Press," GOP Senator Cassidy of Louisiana tried to distance himself and his party from the albatross they've been carrying for years: Donald Trump. In the nearly 10-minute segment of trashing Trump, Cassidy was asked about his party's leadership. He tried so hard to defend his party, by saying WE ARE NOT A CULT!
CHUCK TODD: I guess I ask this: If this is the result of these elections, but the Republican Party still has, sort of, the same leadership – at RNC, Ronna McDaniel, Kevin McCarthy of House Republicans, Mitch McConnell of Senate Republicans, and of course, Donald Trump is sort of the leader out there – if there's no change there, do you think that's a problem for Republicans going forward?

CASSIDY: First, we're not a cult.
OK!
Cassidy was asked whether he'd support Trump if he were the GOP nominee in 2024.
TODD: Can you imagine having to support Donald Trump again if he's the nominee of your party?

CASSIDY: Our party should be about the future. I think our next candidate will be looking to the future, not to the past, and I think our next candidate will win. And so I anticipate supporting a candidate who's looking to the future.

TODD: And if that candidate's Donald Trump, do you plan on supporting that candidate?

CASSIDY: You're giving me a theoretical, which actually I don't think will come to transpire because we have to be looking to the future. And so you can give me a theoretical after a theoretical. I will say we should be a party of ideas and principles. I welcome that. I've tried to live my life that way. And I think our next candidate will similarly embody that perspective.
Cassidy's refusal to commit to not support Trump in the future tells you all you need to know about his and his party's lack of courage.
Tom Cotton Is No 'Nature Boy'
GOP Senator Tom Cotton of Arkansas was on CBS's "Face The Nation" to (chicken)hawk a new book. After making excuses for the GOP's colossal midterms fumble, Cotton was asked whether Mitch McConnell should be their minority leader again. Cotton invoked a very famous pro-wrestler who is the total opposite of Mitch McConnell.
COTTON: You know, the great wrestling champion Ric Flair used to say: "to be the man, you got to beat the man." And, so far, no one's had the nerve to step forward and challenge Senator McConnell. So, I support Senator McConnell.
Somewhere out there is a "stylin', profilin', limousine-riding, jet-flying, kiss-stealing, wheelin' 'n' dealin' son of a gun" feeling a disturbance by being compared to an uncharismatic chump named Mitch McConnell. While this sentence might be the coolest reference Tom Cotton will ever make, it was also made in an effort to say they should just hurry up so they can focus on the Georgia runoff election. Because as even Dave Chappelle said in this weekend's "Saturday Night Live" monologue, Herschel Walker is not exactly the strongest candidate.
\u201cOn the other hand, I did quite enjoy his use of \u201cobservably stupid\u201d to describe Herschel Walker \n\nhttps://t.co/BmHtaFFIfU\u201d

— Matt Wilstein (@Matt Wilstein) 1668318115
The GOP has taken something else from pro-wrestling to assist Walker's inability to sound like he'd pass NFL concussion protocols: heel managers.
\u201c@chrislhayes It\u2019s called the Buddy System, Chris, and it\u2019s safe\u201d

— Chris Hayes (@Chris Hayes) 1668190891
Much like Andre the Giant had Bobby "The Brain" Heenan or Brock Lesnar had Paul Heyman or Yokozuna had Jim Cornette, Herschel Walker has Lindsey Graham, Ted Cruz and many more. And like in pro-wrestling, they serve the same purpose: to talk on behalf of an intimidating physical force that's unable to string multiple words together or too uncharismatic to charm and inspire. They need this because Democratic Senator Raphael Warnock is effective, charming and has a previous record of making the GOP lose in a runoff. That's why Tom Cotton is so OK with Mitch McConnell dragging his jowls back to Senate leadership.
Their focus is Georgia, by any means necessary.
Let's enjoy our midterm victory now, but make sure the final celebration is re-electing Raphael Warnock.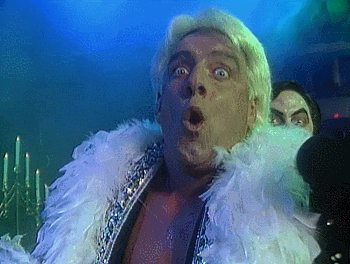 Have a week!
Wonkette is fully funded by readers, so click below and FUND US!
©2018 by Commie Girl Industries, Inc
This Is Not An Ad
Privacy